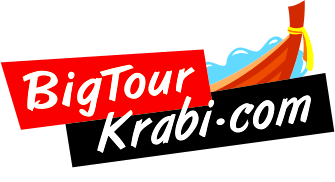 | | |
| --- | --- |
| Package B: Emerald Pool + 4 Islands + BBQ Buffet Dinner | -50% |
This is one of our top suggestions for things you should do in Krabi, Thailand and the number one recommendation for enjoying the underground natural springs that flourish in Krabi province. The water is replenished by a natural streams running into the pool from freshwater sources on the hill above. Hot Springs Waterfall is another unique place with natural mineral water (30 – 40 degree) where everyone can swim and feel the real sanctuary of Rainforest Jungle.

Itinerary

Hot Spring Waterfall.
Rainforest Nature Walking Trail
Emerald Pool
Blue Pool
Tiger Cave Temple / Wat Tham Suea (for tour with lunch only)
Thai set Lunch (optional)

Price include

Hotel Transfer (excluding Railay)
Accident Insurance
Englishspeaking Guide
Drinking Water
Thai set Lunch (optional)
Vegetarian meals available by request (for tour with lunch only)

Notes

Price Not include National Park Fees. Adult - 400 thb, Child (4-12 y.o) - 200 thb. Price per person.

The company will take a right to change the program for suitable and be changed subjected to the weather without prior notice!

Child policy:

Tour available on

Pickup/Return

Transport type

MON

TUE

WED

THU

FRI

SAT

SUN

Pickup: 08:00 – 08:30 AM
Return: 03:00 - 04:00 PM
Minivan




Package price:

Emerald Pool

Adult: 1,249

THB

2,500

THB


Child: 1,099

THB

2,000

THB

Emerald Pool with Lunch

Adult: 1,379

THB

2,800

THB


Child: 1,199

THB

2,300

THB

Buy Thailand tours online!
It only takes one minute

Choose the best trip!
Select dates and travelers

Fill the pick-up form.
Make a 3D secured payment

Recieve the voucher! Present to driver on departure time! You can present it on your smartphone screen!

Let the Trip Begin!
4 Islands by Longtail Boat
Just off the coast of Krabi at Ao Nang, the 4 Islands are the most convenient, easiest and cheapest way to get a true idea of what a tropical Island is. If you only visit one place in Krabi, then these Islands must be right there at the top of the list.

Itinerary

Tup Island (Tale Wek) – relax, make photos and swim at the Thailand's famous place

Chicken Island (Koh Gai) - popular location for photos and excellent snorkeling

Poda Island - white, sandy beach, ideal for sunbathing, swimming and snorkeling

Railay Phra Nang Cave and Beach – beautiful sandy beach and famous princess cave

Price include

Hotel Transfer (excluding Railay)
Accident Insurance
English Speaking Guide
Mask, Snorkel and Life jacket
Lunch
Fresh fruits, Soft drinks
Vegetarian meals available by request

Notes

IMPORTANT!!! Transfer from/to Railay Beach

Tour Pick Up: from AoNang Beach. Meeting point on the corner near PhraNang Inn hotel and tickets booth for Lontail taxi boats. Location: goo.gl/maps/a6Mxc483gpp
Tour Drop of: at any place in AoNang by request. Or at the same place (Longtail taxi boats to Railay) by default.

The company will take a right to change the program for suitable and be changed subjected to the weather without prior notice!

Price Not include National Park Fees. Adult - 400 thb, Child (4-12 y.o) - 200 thb. Price per person.

Child policy:

Tour available on

Pickup/Return

Transport type

MON

TUE

WED

THU

FRI

SAT

SUN

Pickup: 08:30 – 09:00 AM
Return: 04:00 PM
Longtail Boat



BBQ 4* Buffet Dinner
Emerald Pool

Emerald Pool with Lunch

-50%

Package price:

Adult: 1,249

THB

2,500

THB


Child: 1,099

THB

2,000

THB

Adult: 1,379

THB

2,800

THB


Child: 1,199

THB

2,300

THB
© Copyright Siam Star Andaman Tour 2018. All Rights Reserved