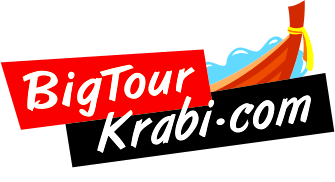 Bangkok Baiyoke Sky Restaurant offers a peerless lunch experience with the breathtaking view from the 76th and 78th floors combined with the rich international and seafood buffet. In the daytime, you can crearly see the entire capital, relaxing in the luxurious interiors of the Baiyoke Sky Hotel's best restaurant and enjoying its high quality food.

Temporarily closed for selling. We apologize for any inconvenience.

Temporarily closed for selling. We apologize for any inconvenience.

Itinerary

Enjoy traditional

Thai meals, seafood buffet with fresh fish and SUSHI, or old good Italian pizza and pasta with exotic salads, fruits, cheese and desserts

observing glorious Bangkok from the bird's-eye view.

To expand your lunch experiens don't miss visiting the panoramic Observation Deck on the 77th floor and if it's not high enough for you then take a lift up to the Revolving View Point with its stunning 360-degree rotating view on the 84th floor.

After that you can defitenetely declair that you have seen the whole Thai capital!

Price include

Admission Fee

Access to the seafood and international buffet lunch on the 76th & 78th floor

Reserved tables

Soft drinks

Access to the Revolving View Point with the 360-degree view

Access to the Observation Deck floor

Be hungry on arrival

Open everyday at 10:30 p.m. until 15:00 p.m.

Booking available for non-Thai Nationals Only. Thai Nationals can make bookings from the hotel directly




How To Use:

Show Mobile or Printed Voucher upon Check In

Voucher redeem and Check In on the 19th Floor

Duration 1 Hrs 30 Min (90 min)

Location: Bangkok Sky Restaurant, 76th & 78th Floor Baiyoke Hotel, 222 Ratchaprarop Rd., Ratchathewi, Bangkok 10400 Thailand

Child policy:

Child over 120 cm of height - ADULT price

Child between 80 and 120 cm of height - CHILD price

Child under 80 cm of height - For FREE

Tour available on

MON

TUE

WED

THU

FRI

SAT

SUN

-48%

Adult: 545

THB

1,040

THB


Child: 299

THB

840

THB

Price:

Adult: 545

THB

1,040

THB


Child: 299

THB

840

THB

Why Book with us

Direct contracts with suppliers

Really Lowest prices

Deposit + Cash on Tour option

Free SMS Notifications

Free change of tour destination

24/7 Support Team

Buy Thailand tours online!
It only takes one minute

Choose the best trip!
Select dates and travelers

Fill the pick-up form.
Make a 3D secured payment

Recieve the voucher! Present to driver on departure time! You can present it on your smartphone screen!

Let the Trip Begin!



nonna
2018-11-18 23:28:55
Fantastic nature,clear water,good food but pick up service must be improved





Karl E.
2018-10-30 16:58:29
Everything was great as usual. We took already third trip with BigAsia during these 2 weeks and have no regrets!




Martin
2019-11-11 18:27:54
Very nice guide and crew. 7 islands trip is a little bit misleading, because 3 of the islands are connected (chicken island) and 2 or 3 of the islands are just big rocks and you just stop there for some snorkeling. The dinner at Railey beach was nice but there was no toilet available. Thats just bad.




Gab-B
2019-03-05 10:36:21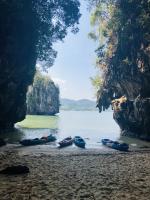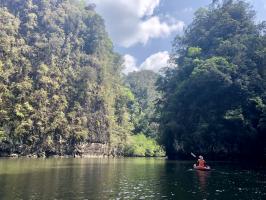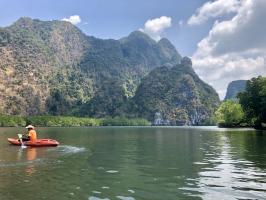 This was our first tour through this company and, although we were hesitant to book online, it was a great trip! We were promptly picked up by a mini truck who took us to our destination. We were greated by our friendly tour guide who offered us drinks. Shortly after we got there we kayaked to a private beach cove, which was my favorite part of the trip, then through some canyons, and the mangrove with monkeys. Our group was small and felt more personable. Our guide, whose name I wish that I knew, was very friendly and smiled often. He even went out of his way to show us things that the other groups did not get to see! The only negative of this trip is that we felt guilty while we ate lunch since we paid for the full tour and the others had to wait until we were done to go home. I recommend doing just the half day and bringing snacks. We ultimately skipped the beach and went home after lunch.
© Copyright Siam Star Andaman Tour 2012-2020. All Rights Reserved